When Baseball Stars Talk Shop - Continued from November 1952 Sport Magazine: The scene was the dugout right before the All-Star game, which was won by the National League for the third year in a row, the result on July 8, 1952 was 3-2 for the Nationals in a five-inning game cut short by rain. The Phillies clubhouse manager Hunk Russell, and 'Senator' John Griffin, the famous Brooklyn Dodger handyman, are preparing six dozen balls for the stars to autograph. The New York Giants trainer, Frank Bowman, stands at the rear of the room.
The first of the squad to arrive is Fred Fitzsimmons, NY Giants coach. Fitzsimmons says: This is my day. (Shakes hands around). My first All-Star game... as he starts autographing balls, Bobby Thompson and Eddie Stanky arrive. While Eddie Stanky and Giants outfielder Bobby Thompson are talking and signing balls, a bus arrives from the hotel with National League players. Al Dark (shortstop NY Giants), Sal Maglie and Jim Hearn (pitchers NY Giants), Warren Spahn (Boston Braves pitcher) and Bob Rush (Cubs pitcher) and teammate catcher Toby Atwell.
Stanky stands up to greet Monte Irvin (NY Giants third baseman), who, as a special quest arrives with Jackie Robinson (Brooklyn's second baseman).
Stanky: Great you see you, Monte (Irvin). How's it coming? (Irvin is the center of attention as various players inquire about the condition of the leg he broke during spring training). Irvin: I've been hitting some, but it's slow mending. I'll be all right. Stanky: I don't get on the training table anymore. Don't need to. I'm a manager.
Bobby Thompson: How's it feel to be back in the ranks, Eddie? Eddie Stanky: Feels good to be back. Thompson: You must be feeling good these days (the Cardinals were on a hot streak prior to the 1952 All-Star game). Stanky: Yes, we got a good combination now. Hitting and pitching won nine straight. Lots of runs and good pitching, you know what that means! You get a fellow like Solly Hemus (Cardinals shortstop) getting on base and a fellow like Red Schoendienst, a good No. 2 hitter that can hit behind the runner hit-and-run...
We got old Stan the Man (Musial) of course, and old Country Slaughter's been coming through in the clutch. Ralph Kiner, Pirates outfielder sits besides Gil Hodges, Dodgers first baseman, comparing bats... Kiner: This Sauer (Hank Sauer, Cubs outfielder) has a hefty stick.
Hodges to bat boy: Hey, kid, get me some sandpaper to rub this down! Thompson: I can't find out what I've been doing wrong lately. dropped 10 points in batting. Sauer: I've been hitting better because I began to put the bat here. (He holds a bat low and at an angle). I used to go at an angle.
Thompson: But if you go after bad balls you lose your confidence.
Sauer: That's true. I was going great, and know what happened? I worked out with a pitching machine one day. Just took 20 or 25 cuts at it. And it threw me off. The ball comes to you at a different angle than when a pitcher throws it. I hit at it ahead of the ball getting to the plate, It threw me off. Thompson: I think a pitching machine's okay in spring training when the pitchers are running and you can't get enough balls to hit. It gives you a chance to limber up. But it's no good for you once the season starts.
Gil Hodges, Ralph Kiner and Hank Sauer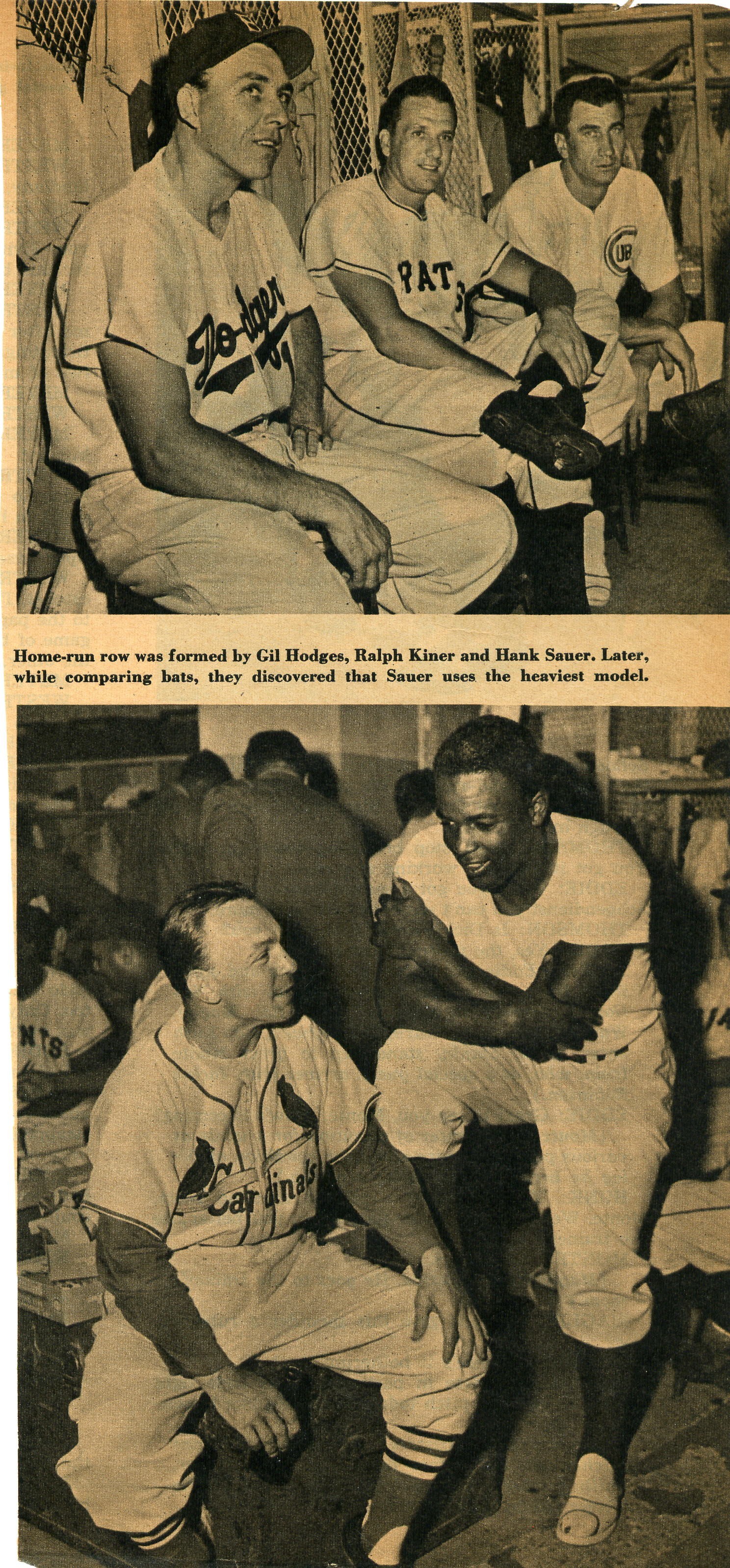 Edddie Stanky, right, and Jackie Robinson
To enlarge - Click on photos twice, waiting between clicks
Below - Monte Irvin, right, and Ralph Kiner