The Curse of the Bambino
In 1914 the Boston Red Sox bought Babe Ruth from the Baltimore club, who were a minor league team du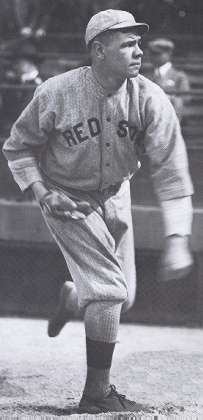 ring this era, and immediately signed him for $3,500 a year, three times the amount he was being paid. During the next 3-years Ruth was the best left-hander in baseball. He chalked up 18 wins in 1915, 23 in 1916 and 24 in 1917. In all 3 of those years opponents batted under .220 against him. In 1916 he led the league with a 1.75 ERA and spun a league leading nine shutouts. In 1917, Ruth was 24-13, completing 35 of the 38 games he started. He allowed only 244 hitters in 326 innings. The 'Bambino' as Ruth was called, intimidated batters with his imposing size, 6'2" 220lbs.
In the 1916 World Series against the Brooklyn Dodgers, Ruth and Sherry Smith opposed each other in one of the greatest pitching duels in history. The Dodgers scored in the 1st inning, the Red Sox in the 3rd and the game was still tied 1-1 until the last of the 14th when the Red Sox scored and won. Both Ruth and Sherry Smith pitched the entire game, which is still the longest World Series game ever played.
In the 1918 World Series vs the Chicago Cubs, Babe Ruth hurled a 6-hit shutout in Game 1. In Game 4, the Cubs scored their first run in the 8th inning to break Ruth's record string of 29 1/3 scoreless innings. Ruth's mark stood until 1961 when Whitey Ford broke it.
The following year 1919, he played 111 games in the outfield when he wasn't pitching and slugged 29 home runs, the most in major league history, and for good measure, 'the bambino' hit a homer in every American League park. He led the league in runs (103), in RBIs (114), in on-base-pct and slugging pct.
The Boston Red Sox won four World Series in the eight years Babe Ruth played on the team. They sold Ruth to the New York Yankees for $125,000 and a $300,000 loan because Boston's owner Harry Frazee needed the cash to invest in a new play on Broadway. As noted since the cash transaction, Boston's inability to win a single World Series Title has been attributed to "The Curse of the Bambino."
The curse has now been reversed! The Boston Red Sox have won the 2004 World Series!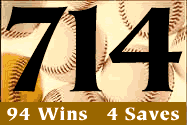 Babe Ruth pitching career: 94 Wins 46 Losses, .671 pct. 2.28 ERA, started 148 games and completed 107, opponents batting avg .221.
View Babe Ruth Legends (Page 5: Power Days)